| | |
| --- | --- |
| Model | Catana 53 |
| Year of construction | 2018 |
| Hull length | 16, 15 m / 53'' |
| Beam | 8, 65 m / 28' 5'' |
| Draft boards up | 1, 43 m / 4' 8'' |
| Draft boards down | 3,00 m/9'84'' |
| Light Displacement | 14.5 T |
| Fuel tank | 860l |
| Water tank | 800l |
| Engines | 2 x 80 hp Yanmar saildrive |
| Flag | US |
| Lying | Bodrum Türkiye |
| Asking price | € 1.690.000 ex vat |
GENERAL CONSTRUCTION
The hull is built in foam sandwich infusion, with Vinylester and Polyester resin. The structure is reinforced with monolithic areas, Twaron® Impact process Aramid fiber and full carbon fiber areas like shroud chain plates, and horizontal stiffening spars.
The deck has a white gelcoat finish the deck is also made in foam sandwich infusion with monolithic / plywood reinforcements. Numerous areas are made in full carbon fiber: The roof and its stiffening, deck stiffening spars, mast foot area and mast pillar.
Structural main bulkheads are made in infusion Foam/Carbon sandwich. To provide the best toughness, every opening (doors and technical holes) are integrated and reinforced during the infusion process.
The hull/deck/Bulkheads joint is glued and continuously laminated. Full carbon fiber lamination joint is applied for the main bulkheads and floor frames.
The hull and deck are as solid as though they were cast in one piece, guarantying an outstanding strength and lifespan.
MAST & Rigging
High Tech Maréchal white Aluminum Mast
Performance boom with spacers
Tricolour and anchoring LED light Head Mast
Outlets for main sail, Solent, spinnaker, Code 0 halyards and topping lift
LED Steaming / deck light
LED spreader lights
Main sail luff batt-car system
Padeye for Lazy Jack
Double wind vane on mast head
Anodized Aluminum boom with spacers
Reefing lines blocks
Anodized Aluminum front beam with LED navigation light
Anodized Aluminum compression beam
1 Solent Furler on Forestay
1 Forestay in stainless steel rod
2 Upper shrouds in Kevlar
Blue performance sailing pack
Mainsail especially developed for catamarans, Square Top Mainsail D4® Régate this type of sail carries more sail with a standard mast. D4® Membrane
3 reefs
5 battens
Radial reinforcements
Free border
Reed ear plugs: Stainless steel eyes crimped
Batten gussets: Strap protection against the entire length of the gusset.
Internal slat enclosures with drop and luff gussets.
Sails and Equipment Performance designed for Blue Water solo: Fixed and Removable Shaft
Sail of Time Easily: Sail plan divided to use the sail that corresponds to weather conditions to always stick to the target speed while simplifying as much as possible the maneuver
Adjustment of the 4 front sails from the Cockpit
Deck / Sail Kit: 4 High Tech Front Sails Incidences
(All Performance Sails, Reliable and Very High Quality)
Boom with spacers
J1 Downwind Gennaker
fitted with a removable furling forestay.
Sail Stormlite 210 Impact furling
Furling line on Winch with stopper
J2 CODE 0 Upwind Gennaker
fitted with removable forestay.
D4 Incidence Sail furling
Furling line on Winch with stopper
J3 Genoa on the front beam
Main Forestay.
D4 Incidence Sail furling
Furling line on Winch with stopper
Main ROD Forestay with fixed furler
J4 Self Tacking Staysail
Removable Forestay.
D4 Incidence Sail on furler
Furling line on Winch with stopper
Self-Tacking staysail with Track sheet in front of the mast
Running rigging
Running rigging controllable from the cockpit
Mainsail halyard pulley block in Dyneema
Mainsail double sheeting system
Solent halyard (controllable at mast foot)
Solent sheet controllable from the cockpit
Solent furler line
1 Automatic reefing Line (N°1)
2 Luff reefing lines (N° 2, N°3)
2 Tack reefing lines (N° 2, N°3)
Topping lift
Dagger board lifting lines
TECHNICAL EQUIPEMENT
Engine, and propulsion
2x Yanmar 80HP diesel engines sound-proofed and totally separate from the Accommodations, Additional sound insolation between engine(rooms) and cabins
Engines control panels on starboard helm station
Electronic engine controls on starboard helm station
2x 4 blade folding propellers
Double Fuel filters for each engine
Fisher Panda Generator 1000i 8KW
MAX POWER vip 150 bow thruster
Plumbing
2 x 430 L fuel tanks at mast foot with gauge display on chart table
2 x 400 L fresh water tanks with gauge display on chart table
2 separate and inter-connectable Pressurized fresh water pumps, with expansion tanks and coal filter.
2 x 55 L water-heaters in (220/50hz ou 115/60hz) and connected on the engine cooling circuit
Watermaker working on 220 and 24v 160l per hour
Additional 80l greywater tank for galley sink
2 black water tank with gauge and alarm, drain at sea or by deck vacuum, vent with coal filter.
1 x 13 Kg butane tank (US electromagnetic security)
4 Automatic bilge pumps
2 Manual bilge pumps
Electricity
2 Engine starting batteries, 105 Ah 12V
Service battery bank approx. 600Ah on 24V
Low buzzer alarm for the house battery bank
1 Charger/Inverter Victron Multi 24V/3000W/70A
Generator 8KW for 220v
10x 100w solar panels on salon roof
2 Alternators 115A / 12 V for engine batteries
2 additional Alternators 115 A / 24 V for services batteries
1 (220/50hz ou 115/60hz) Shore power inlet and 20m of extension cord
Backlighted electrical panel at the chart table with 12V and 115V functions
Built in battery controller
Navigation electronics and entertainment
AUTO Pilot Raymarine Smart pilot, plus double hydraulic ram( one as back up)
Chartplotter GPS Raymarine Axiom 16 at Chart Table.
Second Chartplotter Axiom 9 at helms station
Radar
Raymarine multi repeaters
VHF Raymarine at the Chart Table with antenna and Remote at the helm
AIS Raymarine receiver
Hifi Radio Fusion 4 HP Bluetooth
40"TV in saloon on lift
Comfort
Webasto air conditioning with reverse heating function
Webasto diesel burner for heating function
Dishwasher in galley
ventilation vans in each cabin and saloon
Washer dryer combination (8kg wash 4kg dry)
Deck fittings
Centralized fittings to maneuver without halyards or lines on the deck .
Port aft beam: 1 Electric winch for Solent sheet, reef, mainsail port sheet and port davit
Starboard aft beam: 1 Electric winch for mainsail halyard, reef tack, starboard mainsail sheet, starboard davits, boom topping lift
2 winch 60,2 HARKEN Performa for furling lines electric
2 winch 70,2 HARKEN Performa for halyards electric
2 winch 50,2 HARKEN Performa
1 winch 50,2 HARKEN Performa at mast foot electric
2 Winches for Code 0 sheets electric
Main sail:
Double main sheet system
2 Padeyes for mainsail sheets
2 Padeyes for boom preventer
Solent:
1 Tracks sheet in front of the mast
1 Track on mast for halyard trimming
1 furler line and stopper in the cockpit
Aft beam maneuvers:
2 Stoppers for luff reefing lines
3 Stoppers for tack reefing lines
1 Stopper for mainsail halyard
1 Stopper for topping lift
1 stopper for Solent Sheet Blocks and sheaves for maneuvering from the cockpit:
Dagger boards:
2 Blocks in dagger boards casings
2 Stoppers in the cockpit
Code 0 Fittings
articulated anodized aluminum bowsprit
Dyneema bobstays
Furler with furler line
2 blocks on Travellers
2 sheets
2 travellers on rails on the deck
Mainsail Cover:
Mainsail canvas Lazy-bag, with Catana logo, and adjustable Ø8mm Dyneema lazy-jacks
Mooring
Lofrans 1700W windlass
2 lewmar 1000w mooring winches on each bow
Wire control connected in the anchor locker
Remote control at the starboard helm station
Joggle for manual lifting
100 m of Chain Ø 12 mm SS power ball connexion
1 Main Anchor Roca 55 Kg
Second ground tackle as spare
Deck equipment
Port lights and hatches for light and ventilation
2 Composite deck hatches
1 Cockpit seat hatch
2 Cockpit storage hatches
2 Fuel and storage hatches at mast foot
1 mooring locker hatch at mast foot
Stainless steel gas jack for deck hatches
2 Anodized Aluminum Davits with Spinlock
2 foils daggerboards C53
Security:
Lifeline all around the roof
Roof Handholds
High comfort braided trampoline, attached mesh by mesh
2 SS pulpits with seats
SS aft handrails on aft beam
8 Stainless steel stanchions 60cm high
Double guard lines in white covered stainless steel Ø 4mm
2 lateral boarding gates
8 Aluminum cleats
"Bimini" hard top:
Rigid Bimini housing the cockpit with two opening Plexiglas panels for ventilation
Foam sandwich Composite, closed cells
2 SS grab rails
2 SS built-in grab rails aft
6 built-in cockpit lights
Sunbrella canvas removable sunshades
stern light
Cockpit equipment
Large cockpit on one level with the saloon, helm stations and access to the transoms.
Direct communication between the transoms by crossing behind the beam
Access to the deck with multi-fold wooden steps
1 aft beam sofa (4 seats) with 2 large storage compartments (1 for the life raft) ` with its automatic release system and additional storage front of the beam.
Large central table
2 large fixed seating on port and starboard, with 2 large storage lockers
Lighting with 6 LED spotlights
2 hatches for engine bilge access with cylinders
1 swim ladder on port transom + 1 shower (hot / cold)
1 shore power plug on starboard stern
1 emergency tiller access on each stern Helm stations and steering
2 CATANA design GRP pushpits
2 Magnetic compasses with light and protection cover
2 GRP steering wheels Carbonautica White
2 balanced spade rudders on JP3 self-aligning ball bearings
1 Emergency tiller
Manual engine controls at starboard helm station with control panels and alarms
High comfort salon Easy Line
furniture panels light weight with wood veneer
floor covered with wood veneer
Ceiling panels in Skai
Owner 'suite on starboard hull with master separate shower and head
2 Guest cabin with two shower and separate toilet on port Hull.
Forward peak:
Starboard peak with access ladder convertible in Crew cabin accessible by large T70 flush deck panel, lighting strip
Port peak for sails bunker, accessible by large T60 flush deck panel with access ladder, lighting strip
Saloon:
Saloon accessible by 3 sliding washboards
Cockpit bulkhead with fix windows in front of the worktop
Panoramic view with opening bay windows and Plexiglas side
Ventilation by 2 forward windows and two hatches on deck
table
3 chairs
Storage space under and above the sofa
LED Lightning with dimer
Courtesy Light
2 x AC outlet (220 / 50Hz or 115V / 60Hz)
Galley
Galley with large Resin countertop
Numerous storage lockers
Stainless steel sink (one and a half sink)
Stainless steel refrigerator, with drawers
Stainless steel Deep Freezer, with drawers
Mixer Tap with ceramic seals for hot and cold water
3 burners gas stove
Stainless Steel gas oven
LED ceiling lighting with dimmer
LED Lightning
2 x AC outlet (115V / 60Hz)
Chart Table
Chart Table
Numerous storage
mobile seat
Panels for electronic equipment
Fully equipped electrical panel
Chart table light
1 x AC outlet (115V / 60Hz)
1 x 12V/USB outlet
Owner's Hull (starboard)
Access through sliding wooden door.
Ceiling LED lighting and reading lights on headboard.
King Size Bed with 2 Independent slatted bases, on hinges and stainless steel gas struts
2 comfort mattresses
2 bedsides
Numerous storage and large drawers under the bed
Storage cupboards and wardrobes
Cabinet with 6 drawers
Ventilation by 2 hull portholes + 1 window over bed
Large bay window with mosquito screen and aluminum venetian blinds
Aft panoramic window with mosquito screen and aluminum venetian blinds
General lighting with ceiling LED spotlights and 2 bedside reading lights
1 AC outlet (220/50hz ou 115/60hz)
Owner's bathroom:
Private access from the cabin door
Glass washbasin
Wall unit with mirror and lighting
Separate shower with frosted Plexiglas
Bathroom accessories (1 hook, brush holder and paper)
Ventilations with 2 hull portholes (on Plexiglas bay)
Waterproof LED spots
Cupboards under sinks
Large cupboard which can accommodate a washing machine
Blackout curtain on the windows
1 AC outlet (220/50hz ou 115/60hz) in wall unit
Separate Owner's head:
Electric fresh water marine toilet
toilet articles fixtures
Embedded ceiling LED lights
Aft guest cabin: (Portside)
King Size Bed with 2 Independent slatted bases on hinges and stainless steel gas struts
Storage under the bed
Cupboards and Ward robe
Ventilation by 2 hull portholes (on Plexiglas bay) +
1 window over bed
General lighting LED spotlights and 2 bedsides
reading lights
Venetian blinds
1 AC outlet (220/50hz ou 115/60hz)
Separate W.C. silent Electric SFA on freshwater
Separate shower
Ventilation by 1 hull porthole
Waterproof LED spots for lighting
Cupboards under basin
Bathroom wall cabinet with mirror and lighting
Blackout curtains on the windows
1 AC outlet (220/50hz ou 115/60hz)
Forward guest cabin: (Portside)
Double bed side access (1.4 / 2.00m approx.)
Storage space under the bed tête de lit capitonnée
Cupboards and wardrobe
Ventilation by 2 hull portholes (on Plexiglas bay)
General lighting LED spotlights and 2 bedside
Reading lights
Venetian blinds
1 AC outlet (220/50hz ou 115/60hz) chevet
Tray with wash basin
Mirror
1 Prise AC (220/50hz ou 115/60hz)
Separate shower
Bathroom accessories
Ventilation by 1 Hull port
Waterproof LED spots for Lightning
Layout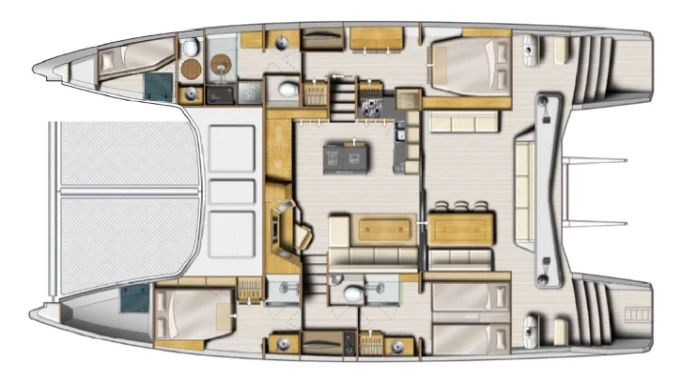 Gallery